Contact WorldView Music
For general information about booking groups please refer to: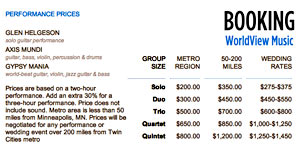 (Booking Information and Prices)
Contact Glen call via phone: 763 360-7662
Have an upcoming event? Send us your event details for a booking inquiry: Event Request
Subscribe to the WVM Mailing list for announcements of upcoming events : Mailing list
Please send us your comments or any requests. Thank you!